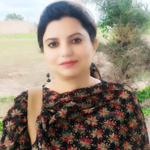 If I Cannot Change the Rules of a Religion I was as Born In, Atleast My Nation's Constitution Allows Me To Adopt a Religion of My Choice- Exhorts a Muslim Lady Officer.
Taking a cue from Prime Minister's call to put an end to the Triple Talaaq practice, a serving Lady Officer Major Farah Deeba from Allahabad has expressed openly in support of the Govt on 'Triple Talaaq' issue which is being contested in the highest Court of the land.
Major Farah Deeba, mother of two sons, holds a doctorate degree from University of Allahabad and is presently working in the rank of Major at Allahabad.
In an interaction the Major from Muslim community said that time has come to put an end to Un-Islamic practice of Triple Talaaq which discriminates against the rights of Muslim women. She opined that the office bearers of AIMPLB and few people have a regressive mind-set as they wish to keep the women under subjugation in perpetuity.
"My heart goes out to millions of underprivileged Muslim women who do not have similar rights as enjoyed by their sisters of the other faith. In fact, who better than me knows the pain, misery and plight of a Muslim women since I am pursuing a legal battle for divorce and domestic violence in Allahabad," said Major Farah Deeba.
"A sense of despair overwhelms me to such an extent seeing the state of affairs in my community that my soul militates to convert myself to a different faith. I shall do that because I do not have the power to change their seventh century mind-set but I am empowered as an Indian to adopt a religion which gives me dignity and respect," said the Major.
In her letter of support to the PM on the stand taken by the Govt on the Triple Talaaq issue she wrote, "In order to financially secure the future for my children I will work for another few years in the job. Thereafter, I wish to dedicate my life to work for social cause affecting the woman, especially minorities. My services will be available to you and your party to strengthen your hands solely because of the progressive step  take by our Govt in the Triple Talaaq issue."
ALSO READ:
AIMPLB rejects Centre's stand on Triple Talaq and Unifrom Civil Code
Change in triple talaq law will lead to killing of Muslim women, AIMPLB
She continued in her letter to the PM by offering her support. "I shall work to dispel the mischievous propaganda and demonic image perception created by vested interest to project the party and Govt as anti-minority. I shall look forward to any role or assignment which I can undertake on behalf of your office for my Govt and beloved leader," she said.
'BHARAT MATA KI JAI'
JAI HIND
Major (Dr) Farah Deeba