Happy Birthday Sundar Pichai | Google CEO turns 45
Lucknow: On July 12, 1972, was born a boy who was destined to make India proud by his extreme intelligence. A bright student, hard worker, dedicated employee and a motivating leader, Sundar Pichai possess all the must haves of a successful man.
Born as Pichai Sundararajan on July 12, 1972, in Chennai, Tamil Nadu, India he grew up in a middle-class home and excelled academically at his school.
He earned a seat in the Indian Institute of Technology in Kharagpur, one of the most prestigious engineering institutions in India.
His father, Regunatha Pichai, worked as an electrical engineer for the British conglomerate GEC and managed a factory that made electrical components and mother used to be a stenographer before having children.
Pichai did his B.Tech in Metallurgical Engineering from IIT Kharagpur and then won a scholarship to study materials science and semiconductor physics from Stanford University.
Pichai had joined Google years ago in 2004 as a product manager and led the innovative efforts for several of Google's products including Google Chrome and Chrome OS which went on to become highly successful.
He then, took over the management of other Google products like Gmail and Google Docs, and rose through the ranks rapidly.
While the proud Google CEO turns 45 today, newstrack.com bring you some facts that not many of us know about him.
In slides ahead: Check out some really interesting facts about the Google CEO…
Like any other Indian, Sundar Pichai is a huge cricket fan. He was the captain of his school cricket team.
His family did not possess a phone until he was 12.
He once tried to talk a friend out of working at Google before joining the company himself.
Sundar Pichai joined Google even before the company went public.
He is very good at remembering numbers and could remember every telephone number he dialled when he was young.
He interacts with students at IIT-Kharagpur over Skype at regular intervals.
He was also one of the top contenders for the post of CEO at Microsoft, which ultimately went to Satya Nadella.
The Google CEO is not at all 'nerdy' as his appearance might suggest! He is actually very grounded, helpful and friendly.
He has been the master of ceremonies at Google I/O for the past few years.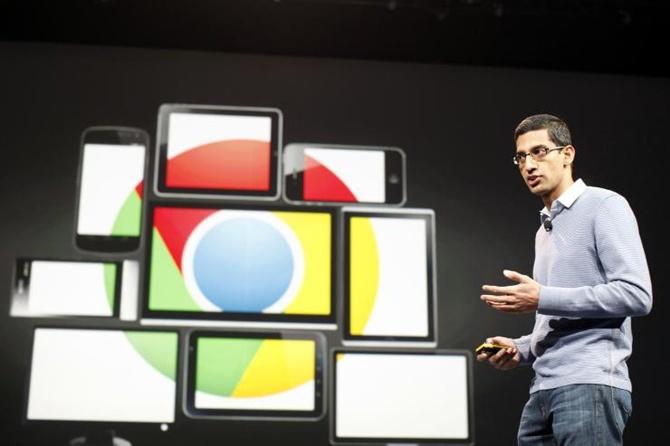 It is rumoured that Twitter tried to poach Sundar Pichai, a few year back, while he was working at Google, but Google paid him an exorbitantly higher pay to retain him.